look who is updating their blog after 45 million of years... me! i swear to everything that i actually have tried to upload this earlier... and even i have a few entries half-written in my drafts that i hope to publish then somewhen before the end of the year... (who knows) (~‾▿‾)~
okay, what i bring you today is an out of the blue kind of quick review of a sheet mask i bought at the spanish's shop primor from the brand narüko called narcissus repairing mask.
honestly speaking, i had no idea about narüko as a brand whatsoever, purely my main reason of picking it up for trying it was because it was a facemask from a brand that i have never tried before and that was enough reason for a face mask/sheet mask enthusiastic like me to feel really happy (i am so easy to please, let me tell you)
all the information i got from narüko is from the shop i bought the face mask in, which is a spanish shop which sells cosmetics, and perfumes and all the deal with incredibly low prices so the 90% of any my skincare/bodycare/anythingcare routines come from there, really. anyway, the
link
to the website in case you speak spanish and want to be marvelled at the prices, really best site ever.
well long story short, from what it says in the primor's website, narüko is a skincare brand from taiwan which is cruelty free, respects the environment and has no parabens or any other artificial ingredients in their skincare formulas, which is always pretty great. i didn't really investigate any other of their products because i was honestly just looking for face masks to haul but from what it seems in the website they have a whole range of not only face masks, creams and any other skincare products but also make-up.
this is the description of the mask in the back of the package
"This mask is specially designed for prematurely aging skin. Coordinating with high effective protective and hydrated formula, it cherishes damage and weak skin, and radiates refined and healthy shine."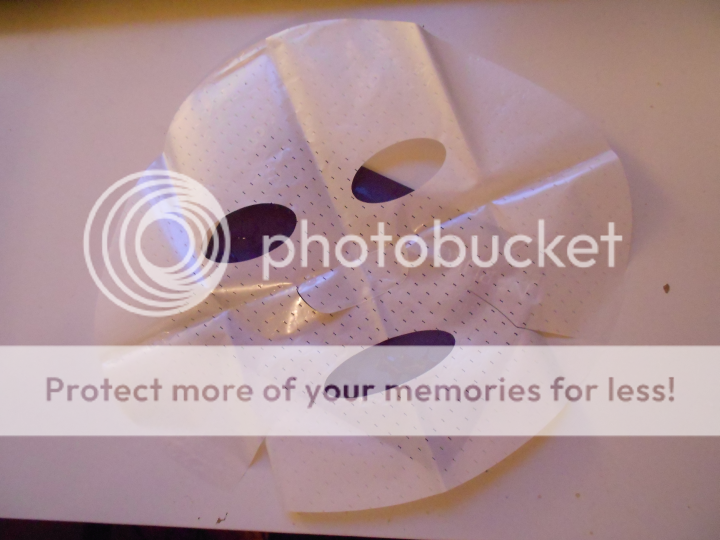 ( i reaaaally loved the fact they added this to help you peel off the mask and apply it on your face)
(okay this is all kinds of awkward but... you can see here how the mask doesn't
really fit my face properly and creates a lot of wrinkles, but
overall, the important stuff is covered, so it could be worse)
okay and this is ever more awkward but... i woke up at 6am,
worked all day, made groceries shopping and actually got the face
mask on at 8pm, so really i think my skin looks bright, rested
and pretty good for all of that at the end of a day, and week
my favourite things:
- pretty much everything? come on it's a sheet mask for 1,99€ (2,2$) which leaves your face feeling hydrated and smooth and everything
- cruelty free, no parabens, all natural ingredients...
- i like the fact the package is different and smaller than any other face masks and also that it comes with a plastic mask which makes the process of peeling and applying the mask on your face better
- the instructions/ingredients came in chinese and english which is amazing and something i am super thankful for so kudos to narüko for doing that
- i like the concept of "prematurely aging skin" because sometimes you start getting aging signs when you're kind of young so the "mature aged skin" products doesn't really fit you, so this is like an amazing idea
- very very moisturising, truly. like usually when you have left a face mask for more than ten minutes it starts to get dry, after removing this one i squeezed it a little between my fingers and it started to ooze product, so really. amazingly moisturising.
my least favourite things:
- i have really no negative thought about this but maybe that the mask itself doesn't fit my face properly... but this is something that all asian's face masks i try have in common so no hard feelings
- the smell might be kind of unpleasant for some people? i don't think so because it's faint and nice but you never know
- the cellulose paper is kind of... thin? so it breaks easily if you move it around trying to adjust it
- i placed it too near of my eye and it kind of irritated it a little... but i think that's normal and just me being clumsy
general punctuation: ★ ★ ★ ★ ★ / ★ ★ ★ ★ ★
i think it's impossible for a face mask not to impress me but... i am very happy with this one. the fact i can buy it close to home and it's affordable just adds to the charm
, it has a lovely scent, it does work and it feels truly hydrating, calming and moisturising as it promises.
i didn't know anything about narüko as a brand but after this i feel like i want to at least keep trying the rest of the sheet masks or something else from their narcissus line.
as always, thanks for reading me and hope this review was useful for you guys~